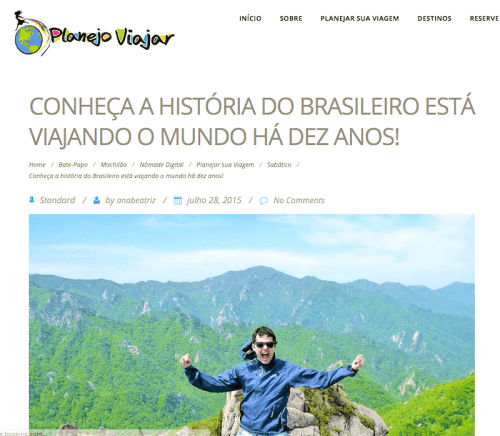 Hey guys, how is everyone?
I have some more cool news. Last week, the blog and I were interviewed again. This time, it was done by the Brazilian travel blog "Planejo Viajar," which means "I Plan to Travel" in English. 
"Planejo Viajar" is, like Out of Your Comfort Zone, is a blog that wants to help you be inspired, plan well, and travel!
Ana Beatriz and Marlyana, the creators of the blog, tell about their travels to help you travel more and better for less.
You can read the interview here. 
Unfortunately, the interview (and the website) is only in Brazilian Portuguese… however, if you use Google Chrome, it will translate it. 
So, did you like the interview? Tell me what you think of it and about their site in comments area below.
To learn about my favorite travel companies and resources that let me travel so much for such a low cost, take a look at my special page of "travel resources."
And if you want to hear about new articles, check out our latest pictures, and read our newest updates, be sure to follow us here….
…..and subscribe to our newsletter below!